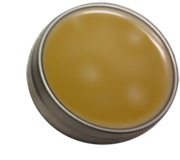 Application Directions: We consider our wax a medium firm hold. We get asked about installing it on the stache often… so my partner and I have OUR methods of choice below.
Trevor – finger nail some out, rub in some chunks and heat it up with a blow dryer and comb it in.

Josh – stick the can in your front pocket for 15 minutes, once your body heat warms it up finger nail it out, rub it between both index and thumb on both hands and roll it in.
If you find another way that you prefer and want to tell us about it, we would love to hear from you. Send us a note through our Contact form.